One of my favorite books on grieving is full of the recognition that grief and beauty can be experienced together. It has been amazing to me how in moments my grief turns to a kind of exquisite beauty and awe of life. Honestly, it is this experience that helps me continue to love life amid its agonies.
Perhaps, beauty can only exist from this mixing of our tears and our gratitude. The Smell of Rain on Dust, has this observation:
"If we let ourselves have our deepest emotions about losing what we love most, than those deepest feelings of love, having no place to go must get to the real work of life …..filling what the loss has left empty with creations of song, dance, art, housing , plants …etc And these well made creations from our grief bring beauty to others. This is turning loss to beauty in its truest sense"
Grief and Beauty also involve Gratitude.
I am learning that I can find peace, gratitude and acceptance by making something beautiful out of grief.
Recently, I listened to Anderson Cooper's interview with Steven Colbert entitled "Grateful for Grief". In this interview, Steven passionately appreciates and honors the depth of grief he has carried since losing his father and two brothers at age 10.
Astonishingly, Steven Colbert heralds his grief as the basis for the good and beautiful he has created in his life. Did he want his father's death to happen? No, but he has found a gift within it.
Beauty From Grief is Like Kintsugi
Experiencing grief and beauty together is not for everyone. Certainly, when my son first died I would have been horrified by this idea. But, then something changed.
The horror and difficulty of my grief pulled me into an experience of having more presence in my life. Beauty is waking me up! And, I am trying to make more beauty each day . There really is only so much time!
Absolutely, I have been cracked open. And, as the saying goes, cracks let the light in. Maybe. But for me, I am filling these cracks with creations that have meaning for me. Many are in memorial of or dedicated to my son but many others are just for joy, for contribution or for my wholeness.
So, I am reminded of the Japanese pottery art Kintsugi.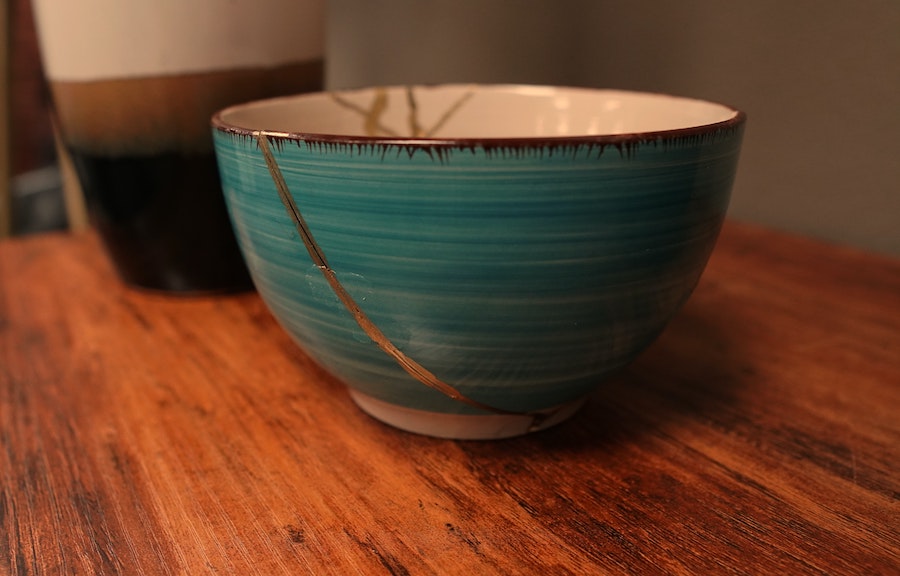 If you need help or inspiration or resources for experiencing beauty with grief please keep reading.
I offer ongoing courses and one on one sessions working through grief with your body. This is crucial because so much grief counseling and material focuses on the mental and emotional aspects of grieving. This is valuable and yet, engaging the presence and ground of my body with somatic movement (You can learn more about what that is here) is how I continue to get through all of those terrible emotions without being completely overwhelmed. Somatic Movement helps me keep an even keel and trust into the uncertain future.
If you want some embodiment, you can visit my Youtube Embodiment Meditations for Grief and Loss Playlist.
Most importantly, if you are someone you know is suffering with grief and loss reach out to me. It turns out, the wind does not have to be sucked out of your sails after loss.